You are here
A Unique Donation Concept Through Savings
31.10.2017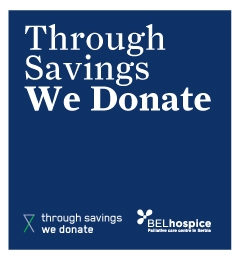 On the occasion of Savings Week, mirabank is promoting a unique message - "Through Savings We Donate". This is a pioneer concept within Serbia's banking market and is meant to support the activities of BELhospice, a local charitable organisation.
Within the framework of this campaign, which promotes an attractive fixed nominal annual interest rate of 1.40% on EUR term deposits, mirabank will, from its own funds, add 10% of the interest amount paid to the client and donate this amount to BELhospice, a palliative care centre which cares for cancer patients during the terminal phase of their illness. "We have created a mechanism that will help those in need and will simultaneously satisfy the needs of those who have money to save. This unique service offers the market not only a good interest rate, but it also gives those who wish to deposit funds the opportunity to participate in a humanitarian project. Anyone who would like to contribute to this mission and support a good cause can save with mirabank and as a result, they will determine mirabank's donation to BELhospice through the amount they choose to save." - said Dr. Ilinca Rosetti, President of the Executive Committee at mirabank.
The annual effective interest on EUR term deposits over a 14-month period is 1.19%. mirabank's offer is available until the end of the year on minimum deposits of EUR 10,000 for private individuals.