You are here
Notice of Termination of Moratorium
26.06.2020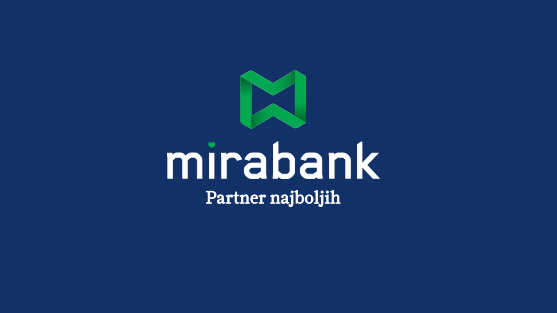 Pursuant to Item 2, paragraph 2 of the Decision of the National Bank of Serbia on Provisional Measures for Maintaining the Stability of the Financial System (RS Official Gazette, No. 33/2020 - hereinafter referred to as: Decision of the National Bank of Serbia) and Decision of the Executive Committee of Mirabank a.d. (hereinafter: the Bank) No. IOS 12-04/2020 as of 20.03.2020 on the Measures and Activities that the Bank Shall Apply to Debtors in Order to be Able to Overcome Difficulties in Repayment of Liabilities, the Bank proposed to its debtors legal entities (hereinafter: the Debtors) via internet presentation of the Bank, the delay in payment of obligations (moratorium).
Based on the above stated, the Bank hereby informs all Debtors who have accepted the application of the moratorium that in relation to their obligations, the moratorium will be terminated as of 30 June  2020 and the Debtors should continue to repay their obligations starting from 1 July 2020.
For Debtors who requested from the Bank earlier application of the moratorium, i.e. in the period from 21 - 30 March 2020, the Bank approved the moratorium for a period of 4 months, so that the obligations of those Debtors which are due in March 2020, after implementation of the moratorium will have the maturity in July 2020.
For annuity loans with maturity in April, May and June 2020, the Bank applied a moratorium of 3 months, with the result that the installment due in April 2020 will have the maturity in July 2020 and the same principle is applied for other months during the moratorium.
Accrued interest during the moratorium shall be credited to the principal on the day of the first maturity after the moratorium (in the example from the previous point - July 2020) and thus the increased principal will be repaid evenly over the remaining extended maturity.
After the expiration of the moratorium period, the Bank shall, without additional costs, submit to all Debtors a new repayment plan prepared in a way that ensures full information of the client on all elements of their obligations and the manner of settlement.
For revolving and overdraft placements, the Bank extended the maturity period for three months from its current contractual maturity. Accrued interests during the moratorium period shall be credited to the principal of the revolving or overdraft placements upon the expiration of the moratorium and the maturity of those obligations shall be extended on the maturity date of the placement itself.
Debtors may contact the Bank for all additional information regarding termination of the moratorium in one of the following ways:
in writing to the headquarters of the Bank, Španskih boraca 1 Street, 11070 Belgrade-New Belgrade;
by sending an electronic message from the debtor's registered e-mail to the Bank's e-mail address: office@mirabankserbia.com
Mirabank a.d.