You are here
New at Mirabank exclusively – Special offer on Term Deposit
2.06.2017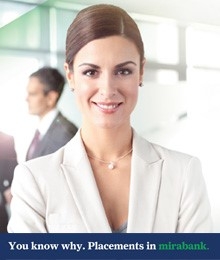 mirabank has brought something new to the Serbian banking market. mirabank offers a term deposit with a fixed nominal interest rate of 1.40 % per annum, over a 14-month period on all deposits of EUR 20,000 or higher. This offer is available until 15 August 2017.
Exclusive savings imply an effective interest rate of 1.19% per annum. To ensure a return on term deposits, clients are required to deposit in Euro. With the exception of a 15% tax obligation, mirabank emphasises that there are no other fees attached.  
A Bank valued by its clients as a reliable partner and one that delivers a unique experience, mirabank's reputation guarantees the safekeeping of its client's funds, as does its participation in the Mandatory Deposit Insurance System. For more information, please contact or visit mirabank's Branch Office.