You are here
Management
Executive Committee

Mr. Nikola Mihailović
President of the Executive Committee
Mirjana Garapić Zakanyi
Member of the Executive Committee
Mirjana is a banking and finance professional holding executive position since 2006 with main responsibilities in risk management, finance and business support operations. Currently Mirjana holds the position of Chief Risk Officer at mirabank, accountable for risk management and operations sector.
Before joining mirabank Mirjana was a Chief Finance and Risk Officer at Telenor banka responsible for developing operations of first and only mobile and online bank in Serbia, owned by Norwegian telco operator Telenor. Besides managing finance operations and risk management, her responsibility was managing acquisition of the bank from the previous shareholder (transaction closing and post-closing activities). Prior 2013, she held positions of Finance Director and CRO at ProCredit Bank in Serbia, being in charge of finance and risk management, respectively. From 2005 to 2011 she has been the Chairperson of the Board of Directors of ProCredit Leasing in Serbia.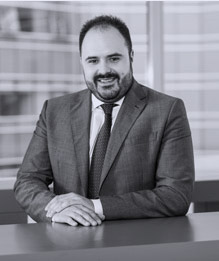 Saša Mićević
Member of the Executive Committee
Sasa Micevic is a dedicated banking and finance professional with strong knowledge and expertise in all aspects of banking finance. He holds the position of the CFO in mirabank since the establishment of the Bank and his main responsibilities cover the function of finance and treasury, including external audits, supervisory reporting, business modelling and business plan development, cost management, accounting and taxation.
He has strong communication skills and dynamic presentation/public speaking style and one of his greatest strengths is his ability to build relationships within and outside an organization.
Sasa is a graduate of Financial Management and Banking Department, Piraeus University (GR).